Can you actually handle gadis-gadis cantik, menarik dan tertarik seperti Vivy Yusof, Chuckei dan Cheeserland?

Atau Hanis Zalikha dan Maria Elena di bawah? Adakah anda rasa anda boleh handle mereka?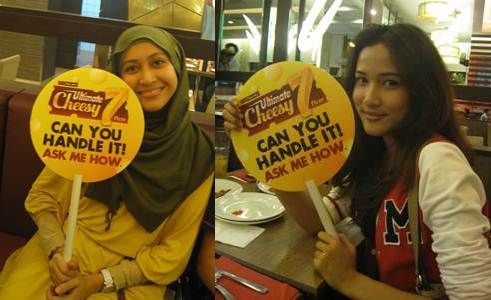 Yes you can handle them dengan Ultimate Cheesy 7 Pizza daripada Pizza Hut. Abang Nara baru-baru nie berjumpa dengan mereka semua kat Pizza Hut Kota Damansara dan sememangnya mereka ini sukar untuk dikawal. Mulut tak berhenti-henti bercakap. Ada je benda nak diborak. Tapi bila Ultimate Cheesy 7 Pizza ini berada di atas meja kami semuanya terus diam seribu bahasa.
Diam bukan sebarang diam, diam sebab khusyuk melantak Ultimate Cheesy 7 Pizza ini. Ultimate Cheesy 7 Pizza ini dilengkapi dengan 7 jenis cheese iaitu Romano, Monterey Jack, Parmesan, Mozzarella, Cheddar, Provolone and Cream Cheese dengan Garlic Herb yang ditaburkan di atasnya. Sesuai sangat dengan taglinenya yang berbunyi "7 delicious cheeses, more to indulge". Lazat tak terkira!!!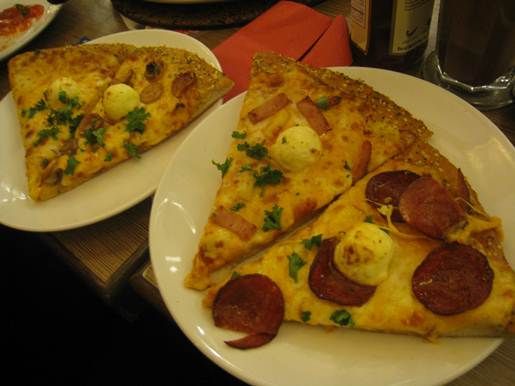 Cuba tengok muka Hanis di bawah yang dah terliur tak sabar nak makan Ultimate Cheesy 7 Pizza nie. Untuk pengetahuan apabila Ultimate Cheesy 7 Pizza ini sampai Hanis terus tidak bercakap langsung dengan manusia di sekelilingnya akibat terlalu asyik mengunyah.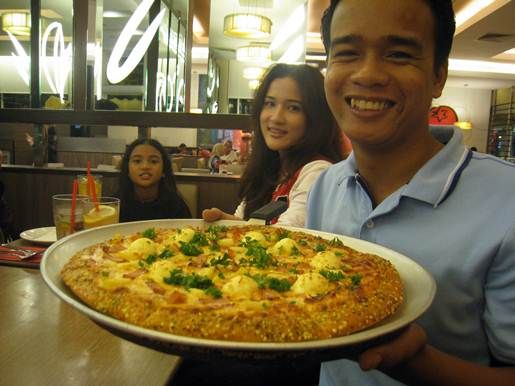 Mata Maria pula daripada normal terus bertukar menjadi juling akibat terlalu happy dapat memakan Ultimate Cheesy 7 Pizza (matanya kembali menjadi normal selepas setengah jam)
Muka bangga Abang Nara kerana berjaya mengawal wanita-wanita ini dengan menggunakan Ultimate Cheesy 7 Pizza. (kebuncitan perut agak terserlah di situ)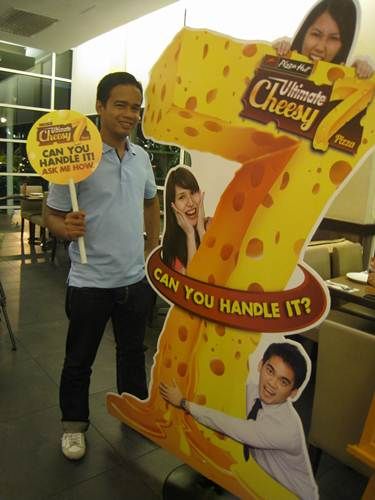 Secara jujur, kalau anda penggemar cheese, inilah pizza yang wajib dimakan oleh anda. Rasa cheese dia akan memenuhi mulut anda. Inilah pizza yang dilengkapi dengan 7 jenis cheese yang hanya boleh didapat di Pizza Hut. Sebab itulah ianya dipanggil Ultimate 7 Cheesy Pizza. Sila tengok video di bawah untuk membayangkan kenikmatan pizza ini. Tengok gaya diorang menyuap pizza ke dalam mulut pun dah terliur.

Tambah seronok apabila anda berama-ramai lepak di Pizza Hut dan makan Ultimate 7 Cheesy Pizza bersama mereka yang tersayang. Dapat berborak-borak, catch up latest stories dan bergosip di dalam suasana yang tenang dan merilekskan. Contohnya macam kitorang blogger-blogger yang kekenyangan makan Ultimate 7 Cheese Pizza sambil mengupdate perkembangan terkini sesama sendiri.
Dan ada berita baik untuk anda semua, bersempena dengan penjualan Ultimate 7 Cheesy Pizza, turut disediakan pertandingan Ultimate Cheesy SMS. Hadiah-hadiah contest ini sangatlah mantap. Grand prize dia boleh buat anda jadi kaya raya sekelip mata.
Hadiah utama x 1 pemenang : RM100,000 wang tunai.
Hadiah tempat pertama x 5 pemenang: 1 unit Panasonic Viera TH-L42U30K 40" LCD TV setiap seorang
Hadiah tempat kedua x 10 pemenang: 1 unit Apple iPad 2 setiap seorang.
Hadiah saguhati x 20 pemenang: voucher Pizza Hut bernilai RM500 setiap seorang.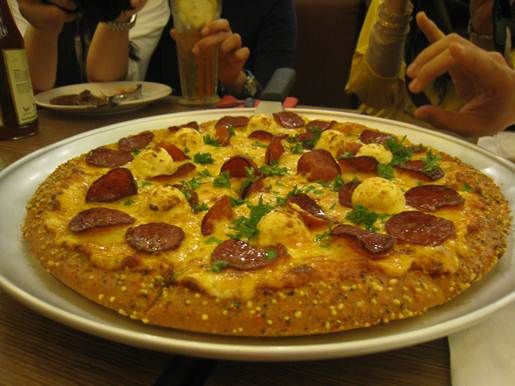 Tunggu apa lagi? Pergi ke Pizza Hut hari ini juga untuk mencuba Ultimate 7 Cheesy Pizza  sambil berpeluang menang hadiah yang super duper hebat. Untuk info lanjut, boleh ke laman web Pizza Hut atau Facebook Pizza Hut.