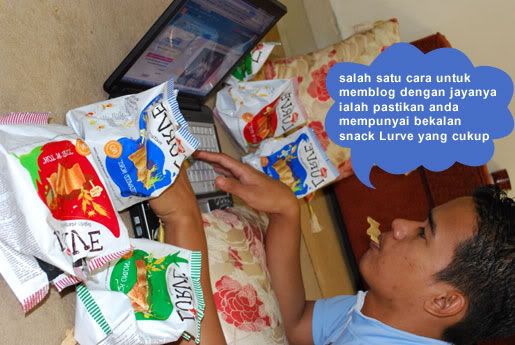 [note]Sila skroll ke bawah untuk membaca artikel terbaru kami. Buat sementara waktu artikel ini akan berada di tempat teratas agar anda semua leh join pertandingan My Lurve Affair With XXX untuk memenangi MacBook [/note]
Harini kami ade gossip paling hangat. Sebenarnye BeautifulNara sendiri ade menjalin 'affair'. Siapakah pasangan 'affair' yang diperkatakan itu?
Kami akui yang kami gila blogging. Kalau bahasa omputihnya, LURVE AFFAIR With BLOGGING lah kiranya. BeautifulNara nie adalah salah satu daripada blog kami. Dan BeautifulNara sememangnya blog feveret kami sebab pembaca-bacanya yang best (anda semualah tue).
Hari ini kami nak bongkar satu rahsia. Rahsia tentang macam mana kami boleh bertenaga mencari sumber-sumber gosip terkini, stay up bersengkang mata sampai malam untuk update blog dan rahsia mendapat idea gossip mantap .
Setiap malam sebelum kami mula memblog, kami akan beli 3 hingga 4 pek LURVE macam dalam gambar di atas. LURVE nie ada perisa Hot 'N' Spicy, Seaweed Nori dan French Onion. Kalau sebut jajan(snack), mesti imej tak berkhasiat kan? NO NO NO (gaya Fafau) , LURVE Multigrain Chips sangat berkhasiat kerana ada pelbagai bijirin. So, makan Lurve = healthier snacking + gossip hebat !
Antara khasiat LURVE nie ialah sebagai pembekal tenaga untuk kitorang terus memblog. Secara logiknya lepas balik kerja memang tak larat dah nak tulis blog, nasib baik bila makan LURVE nie tetiba tenaga mental dan fizikal kami terus recharge. Memang hebat dan mantap!!!
Kami nak ajak anda semua sebagai pembaca blog BeautifulNara ikut jejak langkah kitorang melayan blog ini sambil makan LURVE. Mesti anda akan lebih bersemangat, bertenaga dan bertambah idea untuk mengomen. Hidup pun tambah sihat.
Korang sumer ade 'affair' tak? Kalau ade memang dasyat. Bolehlah turut serta dalam pertandingan snack LURVE, "What's Your LURVE Affair? Mudah saja, anda cuma perlu:
1. Karang satu blog bertajuk 'My LURVE Affair with XXX' dalam blog anda. Lagilah kalau anda boleh kaitkan LURVE Affair anda dengan LURVE Multigrain Chips, lagi bagos!

2. Sesudah anda publish post anda, email kepada [email protected] dengan butir-butir berikut – nama penuh, nombor IC dan permalink blog post anda.

3. Jangan lupa baca Terms & Condition dan kepada mereka yang nak menyertai jangan lupa tuliskan sekali dalam email tue yang anda bersetuju 100% dengan T&C pertandingan ini. Penting tue, sila jangan lupa tau.
Cepat-cepat jangan lambat-lambat! Pertandingan bermula 23 Jun 09 sampai 12 Julai 09. Macam-macam hadiah bakal anda menangi. Hadiah utama, MacBook Pro 13-inci 2.26GHz tue beb. Lagipun 3 pemenang terpilih dapat masuk TV! Personal airtime selama 4 minit dalam 8TV Quickie bersama Belinda Chee dan Henry Golding. Glamour u~~. Silap-silap BeautifulNara kene tulis gossip pasal korang plak.
Kalau nak tau lebih lanjut, boleh pergi ke blog pertandingan LURVE nie. Ada info lebih lanjut tentang pertandingan yang sedang berlangsung. Ape kata anda semua pon turut serta bertanding. Mungkin anda semua boleh bercerita tentang LURVE Affair anda dengan BeautifulNara kat sana.
Jadi, "What's Your LURVE Affair?" Jom join pertandingan nie ramai-ramai!!!