Hidup di zaman sekarang ini memang penuh dengan cabaran. Lebih-lebih lagi di kala kesemua barangan naik harga. Terasa hidup ini sangat complicated terutamanya bagi kita yang "middle income". Kadang-kadang terasa seperti kita tidak menghargai  kehidupan kita sendiri.   Kalau dalam bahasa omputihnya, kita tak "lives the life to the fullest".
Abang Nara adalah seorang pengguna Maybank sejak dari dulu lagi. Memang tiap-tiap hari bukak website Maybank2u untuk check duit. Selalu jugak Abang Nara tengok kot-kot ada contest yang menarik untuk disertai. Tup-tup mulai 1 November hari itu, Maybank dah mula menganjurkan contest #LiveLifeAmplified. Contestnya nampak sangat menarik. Terus Abang Nara join tanpa berfikir panjang.
"Eh, senang sangat contest #LiveLeIfeAmplified ni", bisik hati Abang Nara selepas membaca mengenainya di Facebook Maybank. Hanya perlu sebarkan kepada rakan-rakan dan keluarga-keluarga mengenai kredit kad Maybank 2 Cards. Abang Nara memang pengguna Maybank 2 Cards nie pun. Dah dekat 3 tahun dah. Memang best sebab dapat TreatPoints 5 kali ganda jika berbelanja dalam dan luar negara dengan Maybank 2 American Express Card. Kalau beli belah hujung minggu, dapat lagi 5% weekend cashback. Lagi best hanya perlu bayar one service tax, dapat lifetime fee waiver dan caj kewangan yang dikenakan serendah 8.88% setahun. Abang Nara paling suka kalau beli barang guna EzyPay sebab boleh bayar secara ansuran tanpa sebarang faedah. Terbaik kan?
Cara nak sertai contest #LiveLifeAmplified yang bakal berakhir pada 31 Disember ini sangat mudah. Hanya perlu ke applikasi #LiveLifeAmplified di Facebook Maybank, masukkan details termasuk nombor handphone, tunggu kod pengesahan yang dihantar ke handphone dan tuliskan apakah kemahuan anda untuk mencapai #LiveLifeAmplified. Macam Abang Nara memang teringin sangat nak bercuti di Kepulauan Maldives bersama isteri tercinta. Sambil honeymoon sambil rehatkan badan.
Dan untuk berpeluang memenangi grand prize sebanyak RM10,000, apa yang anda perlu lakukan ialah ajak seberapa banyak rakan dan keluarga untuk bersama-sama bermain applikasi #LiveLifeAmplified di Facebook Maybank. Lagi ramai anda jemput, lagi tinggilah peluang untuk menang. Tak perlu beli apa-apa, tak perlu ada Maybank 2 Cards dan tak perlu cipta slogan untuk menyertai contest ini. Mudah sangat kan?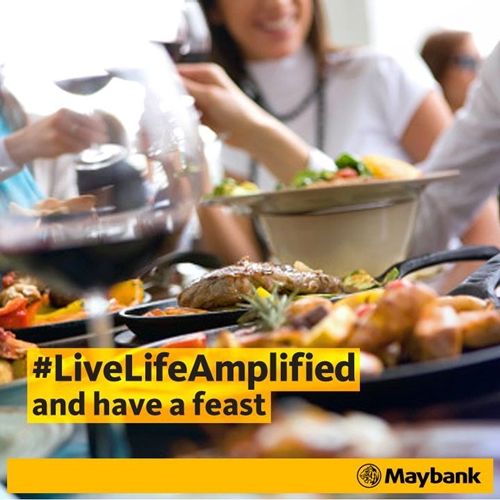 Daripada pengalaman sendiri, Abang Nara suka guna Maybank 2 Cards kerana beberapa sebab. Selain dapat kumpul mata untuk "redeem points", Abang Nara paling gemar dengan "Travel Coverage" yang disediakan. Kalau kehilangan bagasi atau berlaku kemalangan yang mengakibatkan kematian atau ketidakupayaan, at least ada coverage sehingga RM1 juta. Menarik kan? Itu belum kira kelebihan "retail protection" yang membolehkan Abang Nara tukar balik atau minta "refund" sekiranya tidak berpuas hati dengan barangan yang dibeli. Terbaik gila ah Maybank 2 Cards ini.
So far Abang Nara berada di kedudukan ke 15. Masih jauh untuk mengejar yang nombor 1. Namun usaha tangga kejayaan. Abang Nara perlu memenangi RM10,000 supaya dapat #LiveLifeAmplified dan pergi bercuti bersama isteri di Maldives. Kalau nak kumpul duit mahu 10 tahun lagi baru dapat pergi kot. Inilah satu-satunya peluang untuk Abang Nara mengejar impian dan menghargai kehidupan ini.
Kita hidup hanya sekali. Hargailah ia. Gunakanlah peluang ini menjadikan mimpi anda satu kenyataan. Ukirkanlah senyuman di wajah anda. Sertai contest #LiveLifeAmplified di Facebook Maybank sekarang juga. Jangan sampai menyesal di kemudian hari.