#Baca ini dulu dan skroll ke bawah untuk gosip terbaru
Kadang-kadang menjadi pakcik kepada 2 orang anak buah lelaki yang sangat hyperaktif memang terlalu memenatkan. Tiap-tiap hari nak ajak main Ultraman. Yang jadi raksasanya dah compemlah pakciknya yang sorang nie.
Kalau dah start main, sampai lembik pakciknya yang sorang nie dikerjakan. Berpeluh satu badan. Habis tak fresh dah. Peluh sampai ketiak dah bau hangit. Mana taknya, teruk dikerjakan oleh 2 orang ultraman tak bertauliah nie.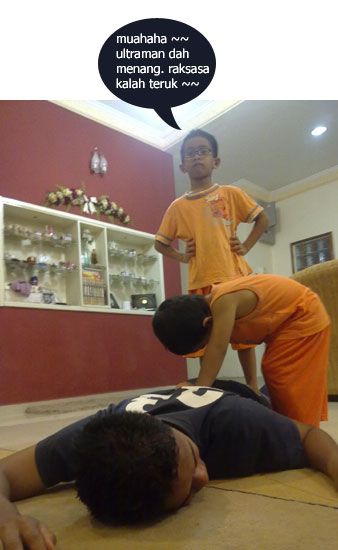 Memang penat layan anak buah 2 orang nie. Kita dah penat, peluh, ketiak pun dah bau masam tapi diorang nak gak sambung main lagi. Mana nak larat kan? Pakciknya yang dah lembik kena belasah memang nak give up dah. Tapi tiba-tiba si Ayyan nie…
"Busuk sangat ke bau ketiak Pokwan sampai Ayyan suruh Pokwan pakai deodorant Gatsby nie?", tanya si pakcik kepada anak buahnya yang dengan muka tak bersalah menyuruh pakciknya memakai deodorant terbaru dari Gatsby nie.
Terus si pakcik tanpa malu-malu menyemburkan ketiaknya dengan deodorant Gatsby. Si Ayyan nie bagi Gatsby Deodorant jenis Clear Ocean. Memang cooling dan refreshing sungguh. Terus hilang bau ketiak dan badan rasa segar kembali. Hebat sungguh penangan Gatsby Deodorant nie.
Kehebatan Gatsby Deodorant nie tak berhenti di sini sahaja. Gatsby bakal mengadakan satu event yang diberi nama Gatsby Deodorant Street Fair. Lebih dari RM15,000 hadiah seperti voucher, gadjet dan lucky draw untuk dimenangi. Details event adalah seperti di bawah:-
Tempat: Lobby, Ground Floor Berjaya Timesquare, Kuala Lumpur.
Tarikh: 17 April 2010.
Masa: 10 pagi sampai 5 petang.
Macam-macam benda best dan pelik-pelik yang bakal dibuat time event nie nanti. Antaranya macam sumo dalam air bag, pertarungan gladiator dan macam-macam lagilah. Kalau nak tau kenalah pergi event nie nanti.
Oh, tapi kalau korang nak gi event ni, memula skali korang kena buat satu blog entry pasal Gatsby.
1. Bertajuk '"I'm going to the Gatsby Deodorant Street Fair"
2. Ada info2 tarikh tajuk tempat (copy paste je yg BangNara buat kat atas tu)
3. Cerita skit apa yg menarik bakal ada kat Street Fair Gatsby ni.
4. Jangan lupa letak link www.gatsby.com.my/streetfair tu ok.
So dah tulis semua tu, hantar lah permalink & Nama & IC no korang ke [email protected], sonang ajo! Kompem korang boleh dapat invite utk pegi Gatsby Street Fair ni..
Korang bukan seorang blogger? Jangan risau sebab still boleh menang invitation ke Gatsby Deodorant Street Fair nie. Caranya senang sahaja. Korang cuma perlu main game kat www.gatsby.com/streetfair. Gatsby akan bagi 2 keping tiket untuk top scorer setiap minggu. Banyak game yang ada kat website Gatsby tue, so main jer yang mana-mana korang suka. Yang penting kena markah terpaling tinggi untuk dapatkan 2 keping tiket.
Jumpa di sana, sana sanaaaaa (baca dgn nada bergema skit)