Menjadi seorang lelaki kadang-kadang ego yang tinggi menyebabkan kita jarang menunjukkan kasih sayang kepada si dia yang tercinta. Dalam kes Abang Nara, bukan hanya ego menjadi penghalang, tapi idea, masa dan kewangan turut membantutkan hasrat diri ini untuk menjadi romantic kepada isteri yang tercinta.
So di suatu hari yang hening, Cadbury Happiness Crew telah merancang suatu surprise berkonsepkan "Share The Happiness" untuk wife Abang Nara. Banyak perbincangan berlaku di sebalik tabir antara Abang Nara dan Cadbury Happiness Crew. Semuanya untuk memastikan surprise ini berjaya membuatkan wife yang tercinta rasa terharu dan kalau boleh menangis kegembiraan.
Dan pada 17 September 2011 bertempat di Fullhouse, Sunway Giza, Abang Nara telah bohong sunat wife dengan menyatakan nak pergi makan malam bersama-sama sedangkan ada surprise yang sedang menanti dirinya. Jeng-jeng-jeng.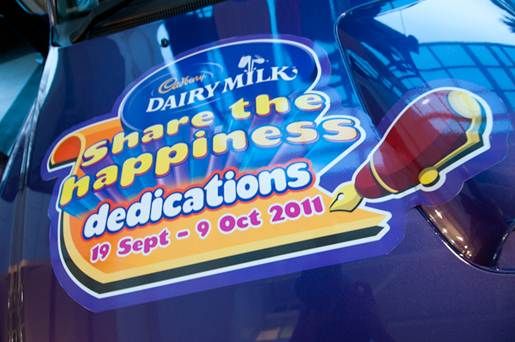 Sampai-sampai je, kami berdua disambut dengan "Purple Carpet Cadbury" yang dihamparkan menuju ke pintu masuk Fullhouse. Siap ada penari-penari yang menyambut ketibaan kami berdua. Masa nie wife dah menjerit "Apa benda nie? Napa tiba-tiba ada karpet nie?". Abang Nara tersenyum sebab ini suatu permulaan yang baik.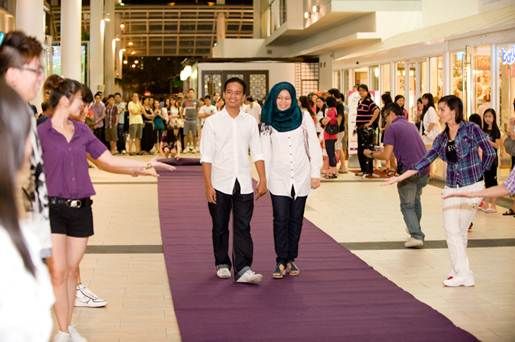 Kita close up muka wife Abang Nara yang tengah terkejut.
Masuk je ke dalam Fullhouse, Abang Nara pun duduk di tempat yang telah direservekan. Masa nie wife dah tanya "Eh diorang betul ke buat untuk kita nie? Tak salah orang ke?". Tapi dari raut wajahnya Abang Nara tahu dia tengah happy dan terkejut sangat-sangat.
Abang Nara duduk dalam 1 minit sambil menenangkan perasaan wife dan terus Abang Nara bangun cakap nak pergi toilet kejap. Sehari sebelum surprise nie, Abang Nara dah go through dengan project manager dan Abang Nara memang kena bangun tinggalkan wife supaya nanti ada magician yang datang.
Di tangan magician tue ada kad-kad yang disalutkan dengan gambar-gambar Abang Nara dan wife yang tercinta. Semuanya mengikut turutan daripada zaman percintaan, pertunangan dan perkahwinan. Kiranya Abang Nara saja nak bagi wife Abang Nara mengimbau kenangan kitorang. Time wife Abang Nara tengah leka tengok show daripada magician nie, Abang Nara sebenarnya dah berada di belakang Fullhouse untuk sesuatu yang lebih mengejutkan.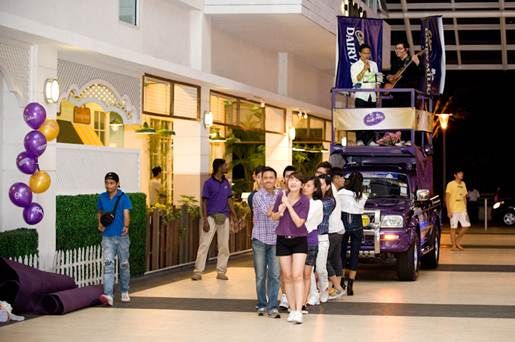 Yeah ~~~ Abang Nara ada di atas kereta yang ditarik sambil menyanyikan lagu feveret wife Abang Nara yang bertajuk Kau Ilhamku nyanyian Man Bai. Secara jujur, suara Abang Nara memang tak sedap tapi masa nie memang Abang Nara menyanyi dengan penuh feeling.
Walaupun ramai orang memerhatikan ketika itu, Abang Nara memang tak ada nak fikir malu or whatever. Iyerlah, inikan surprise untuk menunjukkan rasa kasih sayang kepada si dia yang tercinta. Buat apa nak malu kan? Dan Abang Nara makin terharu apabila melihat wife yang sudah mula mengalirkan air mata.
Sampai sahaja kereta tersebut di sebelah meja yang kami duduk, Abang Nara pun turunkan 2 banner yang mengandungi gambar-gambar kenangan kami berdua.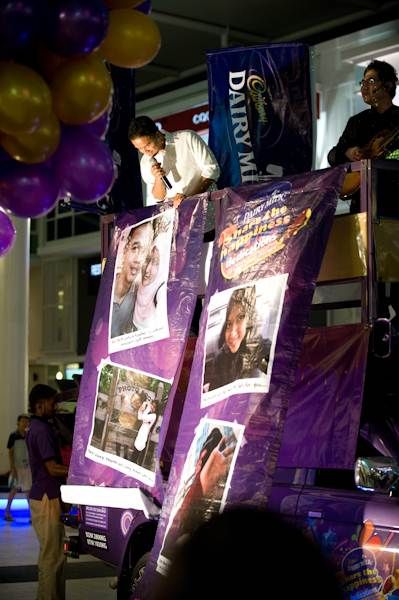 Masa nie wajah wife Abang Nara memang terkejut gila-gila sebab dia tak tahu Abang Nara dah hantar gambar-gambar tue semua kat Cadbury Happiness Crew untuk dijadikan banner.
Selepas itu, Abang Nara turun daripada kereta tersebut sambil memegang sejambangan bunga lily untuk diberikan kepada wife.
Dan Abang Nara bukakan banner terakhir yang mengandungi gambar scan anak kami berdua.
Bayangkan semua ini terjadi ketika puluhan orang yang tak kami kenali sedang memerhati. Honestly, tak ada sedikit pun perasaan malu dan segan. Yang ada hanya perasaan bangga dapat meluahkan kasih sayang kepada wife dengan cara yang sebegini.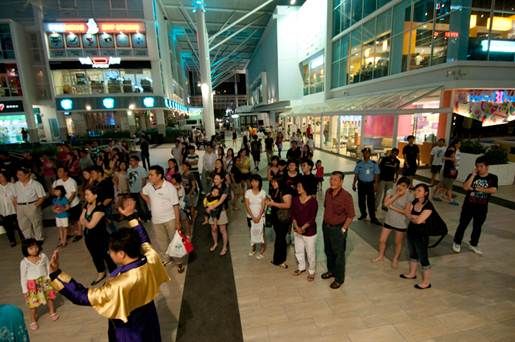 Habis memberi bunga dan membuka banner terakhir, Abang Nara kembali ke meja kami berdua dan dengan pantas mencium isteri tanda sayang yang teramat.
Terima kasih Cadbury kerana mereliasikan impian Abang Nara untuk membuat kejutan kepada wife tanda kasih sayang.
Dan anda juga boleh turut sama melakukan apa yang Abang Nara telah lakukan bersama "Cadbury Share The Happiness Dedications" bermula 19 September sehingga 16 Oktober ini.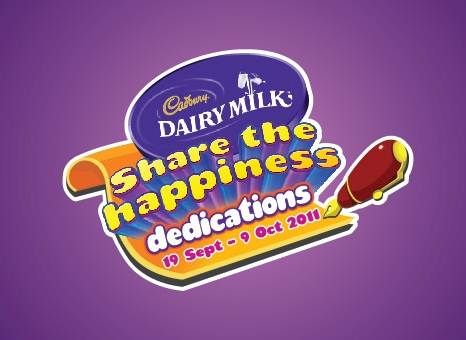 Hanya perlu dedikasikan idea anda di Facebook Cadbury Malaysia dan idea anda mungkin akan direalisikan oleh Cadbury.
Terima kasih Cadbury kerana mereliasikan kejutan Abang Nara untuk wife yang tercinta. Jangan lupa anda juga boleh mereliasasikan impian anda bersama Cadbury Dairy Milk menerusi Facebook Cadbury Malaysia.
UPDATE: Tarikh tutup penyertaan telah dipanjangkan ke 16 Oktober 2011.